Mark Bloch
Hudson River
Mountainsongs

and

Bridgesongs
Windows on Main Street, Beacon, NY
August 11- September 8, 2012
Mark Bloch is one of the featured artists in Beacon, New York's Windows on Main Street, a collaborative project between artists and businesses in a public display of art along BeaconŐs historic Main Street. The exhibit explores how art can provide cultural and social understanding, be a catalyst for economic improvement in communities, and strengthen the relationship between residents and artists.
Bloch's work is a series of 43 musical scores, inspired by the landscapes and bridges of the Hudson River Valley, displayed at PlayIN Time Music at 329 Main Street in Beacon, home of Dia Beacon, the Dia Art Foundation's Museum on the Hudson.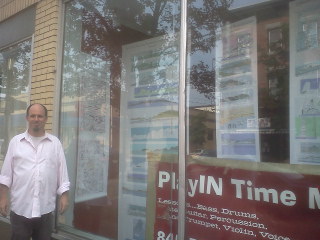 Mark Bloch, born in 1956, first made art in a window when he was about seven years old when he put on a marionette show in the window of his apartment in Cleveland, Ohio. In 1980 in Laguna Beach, California he did a performance called Artist For Sale in a window at the Farenheit 451 Bookstore.
With this piece in Beacon 2012, he proudly and humbly collaborates with PlayIN Time and brings his interest in music to the forefront. Mark is a musician as well as a visual artist and has worked with sound as long as he has worked with windows. He is a trained percussionist and works with found objects in two dimensions, three dimensions as well as in real time which he considers the fourth dimension. When sound occurs of any kind in the fourth dimension, whether organized or not, he considers it music, but it can range from noise to more traditional sound structures. In this case he has used traditional visual art forms to create potentially non-traditional music pieces (but not necessarily so) inspired by the Hudson Valley. He has created the scores and invites the public to perform them. Mark collaborated with the important American composer John Cage in 1980s. Cage was also a fan of the Hudson Valley, often collecting mushrooms in Stoney Point across the river. Mark dedicates his participation in this window to the memory of Cage who was born 100 years ago this fall.
(CLICK IMAGES TO ENLARGE)
See the Windows on Main website:
http://www.beaconwindows.org/2012/08/mark-bloch.html
http://www.panmodern.com/riverscores