The One World Postal Art Show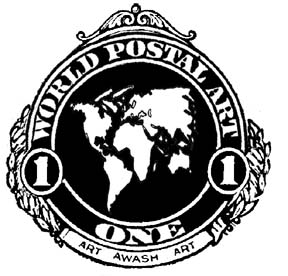 Welcome to the One World Postal Art Show.
What is a postal art show?
Postal art is art that travels the planet via the international postal system. This phenomena has been going on since the 1950's and has been the subject of many books and magazine articles. It pre-dates the Internet, even in its earliest form, by many years and in many ways anticipated today's interactive, international exchanges on the World Wide Web, Usenet groups and the Internet proper.
The "art" consists of the continuous interchange between participants, which is sometimes referred to as "The Eternal Network", or just "The Network", as well as the objects (collages, photocopies, drawings, little paintings, postcards, magazines, limited edition "zines", little magazines, writing, poetry, found art, posters, games, 3-dimensional objects, rubber stamp art, audio and video tapes, etc.) that are mailed. Postal Art, (also known as Post Art, Correspondence Art or Mail Art) takes many forms, but two main categories are (1) one-to-one correspondence between individuals and (2) postal art shows.
A postal art show usually consists of mailable works that are sent through the postal system for the purposes of an exhibition, publication, or other project. Unlike traditional art shows, the art is usually not juried, censored, and is not returned when the show is over. Thus, postal art is less like a commodity and more like a gift to a friend that you do not know.
Since it's inception in the early part of this century and wider dissemination in the 1960's, 70's and 80's, postal art has proven to be an effective tool to promote peace, human rights, and mutual understanding between people of diverse backgrounds. The free exchange of ideas that is a cornerstone of this participatory network provides a greater awareness of other cultures and interrupts antiquated market structures.
The concept of art-as-a-gift is a much needed one on this planet at this time. The rich history of shared acts of creativity–from making dinner to making mail art–needs to be revived and examined as a strategy for bringing meaning into our lives.
The international postal art network provides a model for communication across boundries that separate us. Artists in Eastern Europe used it to communicate with the West. Mail artists in South American countries were jailed for sending it. Today, artists in the former Yugoslavia and Cuba reach out to the rest of the world via postal art, requesting contact and help in understanding the crises that have isolated them.
One World
The One World Postal Art Show celebrates the concept of a single planet populated by diverse peoples. I invited artists in every country in the world to submit work on utopian themes outlined in the United Nations charter that are remarkably similar to the spirit of sharing in both mail art and the Internet:
peacekeeping
disarmament
human rights
environment
intellectual property
world health
social development
economic development
international law
aid to children
aid to refugees
fighting hunger
I also invited the UN to participate but their response taught me that political solutions to spiritual problems are no longer viable. This idea seems to echo all around us. Artists, not bureaucrats, must provide a vision of cooperation.

All work, any size, any medium was accepted. The only requirement was that it arrived by mail (or e-mail).

All work received is exhibited here on the web or at the Synagogue Space For Visual And Performing Arts in New York City. The Show is available for travelling. A documentation of the show will be sent to all participants and is also available from Mark Bloch POST ART NETWORK PO Box 1500 New York NY 10009 or send email.