from ESPN.com
October 1997
Cleveland's legacy of loss
By Mark Bloch

ABCNEWS.com
Animated Graphic by Mark Bloch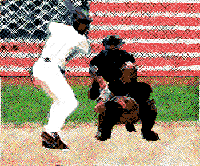 It seemed for a while they were going to be the "team of destiny," the unexpected winners of the 1997 World Series. But in the end it was another kind of destiny that engulfed the Cleveland Indians.

Since the 1950s, few baseball teams have been as mediocre as the Indians. Some attribute it to a mysterious "curse" that began with the 1960 trade of the popular Rocky Colavito to the Detroit Tigers. Whatever the cause, their ineptitude continues to be haplessly lovable.

This year is the latest in a 100-year history of near-misses and disappointing might-have-beens for faithful Cleveland fans.

April 24,1901
The Indians, known then as the Cleveland Blues, played in the first American
League game ever (three others scheduled that day were rained out). They lost
8-2 to the White Sox, perhaps a bit of foreshadowing for Cleveland's 82 losses
that year, and for future seasons as we