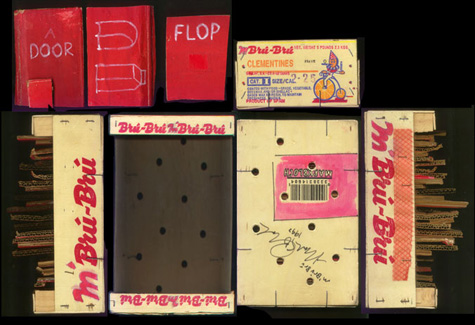 The M'Brú Brú Box
(circa 1992-94)
A significant art piece of mine that was completed during the 1990s is a small wooden fruit box with altered type, stuffed with a "deck" of thick, postcard-sized rectangular works of art made out of corrugated cardboard painted red with white markings.
It is called M'Brú Brú and it started with the infamous Clarence Thomas-Anita Hill hearings in October 1991. It was a reference to the fact the Supreme Court nominee Thomas was accused of inappropriately pointing out to his female colleague, Hill, that there was "a pubic hair on his coke can" and that this, among other acts, was considered sexual harassment. I was in the Greenwich Village Halloween parade around that time dressed as a large can of "Clarence Cola" that I made out of cardboard with a single large spiraling pubic hair made of wire as a headpiece. As I said, the bright red "can" portion of this costume was a giant cylinder constructed out of cardboard and the face of it featured a parody of a Coca Cola can on thick paper, which still exists as a work in itself. It is more in the political-detournment realm of art rather than the visual poetry of the M'Brú Brú Box. However, both that work of detournment art on paper and the M'Brú Brú deck of cards bega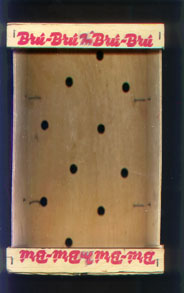 n together that Halloween.
After November had began the following day, the leftover cardboard and red paint that I used to make the costume that was sitting around my studio. I soon after proceeded to create a work that popped right out of my subconscious without knowing what it was I was up to. As an active mail artist in those days, I suppose I was making postcards at first. But in retrospect, they were too thick for that, being on the corrugated cardboard, close to 1/4 inch thick. Soon the cards piled up and became more of a "deck" of 26 randomly created cards that eventually landed in a found wooden box that had previously carried clementines. During a series of phone calls during this phase of my life, I worked on the cards while chatting for long periods of time with two people in particular. One was an artist friend who might not be happy if I used her name because she was literally slightly insane in those days and probably still is, so I won't. But she and I used to gab for long periods of time about the NYC art world that she was quite familiar with. The other person I spoke to was the artist Ray Johnson. Ray and I both were quite mesmerized by the Thomas-Hill hearings and we discussed them at length and many other things at times during this period. I don't know exactly when this was but it was between the late 1991 hearings and Ray's death in January of 1995. The cards took on an interesting look. They were each completely red, some abstract in the style of a mini-Mark Rothko or Josef Albers, while some contained hieroglyphic-like symbols--very simple images painted in white.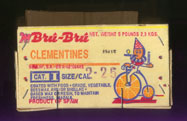 I will now describe some of the cards and what they loosely depicted, as far as I can remember:
1) A cartoony portrait of Clarence Thomas with a raised surface.
2) Objects and symbols that came up in conversation such as a heart, a brick wall and a Coke can.
3) A reference to "A Door," a twist on the name of my friend Dora.
4) The letters "MAR," the first three letters of my name and also a reference to Picasso's muse Dora Maar, a subject of interest to me and Ray and a reference to my friend Dora.
5) A drawing of an ace of hearts. This literally depicts the deck idea. Many of the phone conversations were simply me describing what I was making at the time.
6) Several drawings of milk cartons. I was saving milk cartons for a performance at the time. I had many dozens of them accumulating in my studio.
7) A glass of milk. Goes with the cartons. The milk moves from cow to carton to glass to human.
8) Reference to Milk and Pink and the similarities and differences between the two words.
9) Mailbox shapes next to milk carton shapes.
10) The words Slop and Flop, references to Ray's movement Flop Art. (Flop Art was in turn a reference to Pop Art and also to the final work of Duchamp, the Etant Donnes, a topic Ray and I discussed often.)
11) The words Nil and Nile, an anagram for the word Line and references to the word nihilism and the concept of nothing, as well as a recollection of Ray's statement regarding one of the African-American women in the Clarence Thomas hearings that may have also foreshadowed his own death: "Float her down the Nile!"
12) PP BOW. A reference to the New York gallery P.P.O.W. This sums up some of the cards with symbols, words and letters. There are others.
As I said, I also glued other little pieces of cardboard and red paper to the cards. I should also add that I had done two other works having to do with red prior to this. One was "Bloch Is Here," a performance I did at several American museums in 1980. I would paint myself red, wear a red jumpsuit and stand outside museums handing out flyers to introduce myself to the public. I was isolating the PR as the art. The red symbolized my embarrassment at having to do this. The other red-centric work was an installation I did in Amsterdam in the mid-80s. Unable to attend, I sent instructions to a gallery there to put any red items including a red net into the defined space where the installation was to take place. A sign invited visitors to the show to also add red items from their pockets and elsewhere to the piece. The end result was a monochromatic sea of red paper and objects.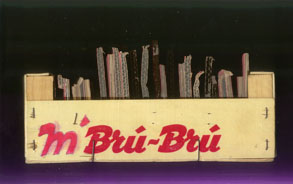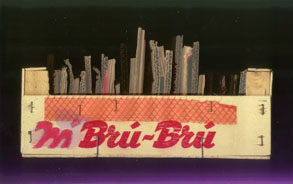 This piece M'Brú Brú took on a performative aspect when I finally showed it to my friend on the street one day after the cards had been completed. I met her in midtown New York near the 51st and Lexington Avenue subway stop and leaned the cards against the walls of a building at sidewalk level. I suggested that the best way to display this piece would be to lean the cards. Even though the cards focus mostly on one obvious side, they are unmistakably 3 dimensional objects that feel very nice to the touch when held alone or in groups. I put the cards into the found fruit box where they fit snugly. I changed the lettering from the manfacturer's "Brú Brú " to "M'Brú Brú" because "M'bwebwe" was the name of a group of artists I was part of when I moved from Los Angeles to New York in 1982. I had originally met them in the 1970s when we all attended Kent State University in Ohio but at that time we were unnamed. "M'bwebwe" became the name of our group after it was used as the name of the makeshift nightclub they had created in their downtown Manhattan loft space in 1978.
The M'Brú Brú Box is a piece of tactile, interactive visual art. [I am most honored to announce that the piece is now in the collection of The Ruth and Marvin Sackner Archive of Concrete and Visual Poetry in Miami Beach.] Here you can also see some reproductions of the cards that I made in a small edition a few years ago and some photos taken by my friend Richard Haines of a reenactment of me placing the cards on the sidewalk (truly "concrete" poetry) and leaning them against the wall for display during a busy lunch time "performance" at East 51st Street and Lexington Avenue, the site of the original and only previous showing of this work. That first showing was for my unnamed friend on the other end of the phone who wanted to see the cards.
Mark Bloch January 18, 2006