Memories of Alan Myers (1955-2013), Devo Drummer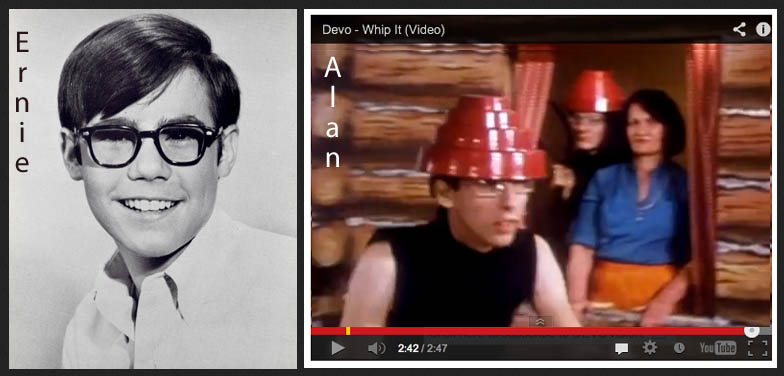 Alan's nickname was Ernie because he resembled the be-spectacled character Ernie on My Three Sons.
NEW YORK CITY, JUNE 26, 2013- Alan Myers, the Devo drummer from 1976 to 1986, lost a battle with cancer on June 24, 2013.
Here is what I have to say about Alan and Devo:

First of all I remember Alan from band class in 7th grade. We were both drummers and he was an awesome drummer even then. He was a year older than me. I have heard someone say they don't know how old he was. He was probably born 1955.

I was in a car pool with him to school. Don't remember much about that except riding on Thurmont to junior high. I do remember him talking about Johnny Winter And one time.
I also remember we were in a Jewish youth group together and Alan's nickname was "Aleph Ernie." Aleph was a title of respect and we called him Ernie because he resembled the be-spectacled Ernie on My Three Sons.

When Devo was forming in Akron a few years later, my friends Mike and Jodi literally shared a house with them. Alan was not yet in the band then I think. Mike used to complain about the literally roaring noise blaring out of the heating ducts from downstairs. He was a meditator. Devo was quite crude and raw in those days, their sound was not yet refined. I think the music from those days has been put out on two albums titled 1974-78 or something like that. Years later when they made it big, Mike could not believe it but he eventually became a fan, too.

Anyway, the next Devo memories I have were in 1975 or so. First of all they played for the Freddy Demuth Club outside my dorm, Stopher Hall, at Kent State University. Freddy was supposed to have been the illegitimate son of Karl Marx. Devo did some gig outside on the lawn and like 2 people came. I heard them from the window in my dorm room. I wrote something about them in a mimeographed zine I published at the time called The Sprout and I have since called that possibly the first review they ever got. I think I wrote they were "the band everybody knows but nobody understands" which was really my own take on them. Then I saw Devo as the opening act for a film, believe it or not. It was not just any film, it was Pink Flamingo by John Waters in the auditorium of the Administration Building, I think they called it. (Which is also where they may have made that first Booji Boy film The Truth About De-Evolution.) But what I remember most is that people threw beer cans at them. Which is interesting because just two days ago, Gerald Casale said something in an interview on Reddit:

Q. At what point in your life did you realize that playing in a band was going to be your career and not just something that you do until something better comes along?

A. When the beer cans started flying at the stage during our WHK Halloween performance in Cleveland Ohio in 1975.

I distinctly remember beer cans being thrown at Kent.

Devo's Casale and other were influenced by the same art teacher as me, Bob Culley who was an awesome dude who built a Jungian box you could sit in with magical drawers and boxes and stuff, in his garage called The Temple of the Silver Hare. A year or two after knowing Culley I heard they also loved him. I bought some rubberstamps, my first, from a little store that either Devo members owned or someone else did who sold some of their stuff. But I remember that the little Ohio stamp I bought and a head with a brain on it were theirs, I was told. And maybe the one that said Give Musollini the Boot.

Finally all those years later (actually only a couple but it seems like forever) when they were on Saturday Night Live doing Satisfaction I was driving cross country alone, moving to LA, and I stopped at some cowboy bar with a TV near LA but still in the desert and I asked the bartender to put on SNL and he did and when they came on I feared for my life when all the cowboys watched them wiggling out of cocoons or whatever they did on that show. It is a memory i will always treasure. I beat it out of there!!!

I was always happy for Alan's success in the band and I rooted for them. I remember how exciting it was to hear Eno would produce their first album. They really rocked it. Alan's drumming was amazing. I went and saw them when they did that and also a few years later when they did The Girl You Want stuff. i think it was at the Palladium in New York on 14th Street right before it became a night club.

Someone asked Casale on Reddit:

Q. I'd read there was some bad blood between Alan and the band, but have there been any attempts to reconcile, or any contact at all since he left the band?

A. I was never privy to whatever it was. I begged him not to quit. I think the Fairlight was the last straw when Mark (Mothersbaugh) programmed all the beats.

I don't know whatever happened but I always admired Alan's excellent playing and the low profile he kept. I liked when they said they would get rid of the guitars over time and replace them with synthesizers to go with the Devo theory. But I never would have advocated replacing the backbone Alan provided. He was like a rock to their insane, de-evolutionary shenanigans which I also enjoyed, but Alan provided the no-nonsense foundation that made them so much more than the novelty act some people think they were. R.I.P. Alan Myers.

P.S. This has nothing to do with Alan but it is also a treasured memory: In band class, the teacher Mr. Hess used to lose control of the class virtually every day as we all goofed around and cut up. He was constantly fighting for order in the band room and was in a constantly dis-shevelled and agitated state. I remember a bass drum thumper who shall remain nameless, not me and not Alan, who had no rhythm and Mr. Hess used to struggle with getting him to thump the big bass drum in time and so he would shout in time over the music while waving his hands furiously at the culprit, "Boom! (pause) Boom! (pause) Boom! (pause) Now! (pause) Now! (pause) Now!"
–Mark Bloch